STEINBEISSER EXPERIMENTAL GASTRONOMY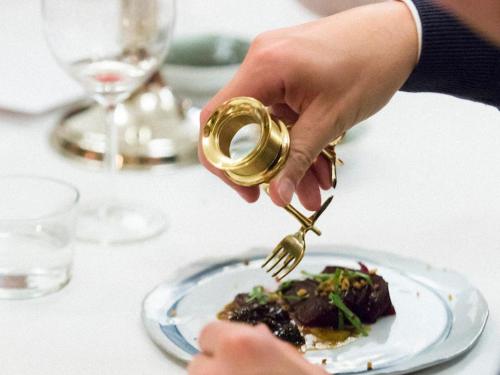 Steinbeisser's Experimental Gastronomy is a unique immersive experience that marries high end gastronomy with conceptual design practices and offers a radically different way to enjoy food.

What, why and how we eat, are the questions Steinbeisser approaches in a way that is playful and provoking. All participants and guests alike are confronted with issues of sustainability and locality that takes their practice and experience out of the comfort zone.
International artists are commissioned to create tableware and cutlery that transcend the practical task of being an invisible and helpful tool to become a dinner participant on their own right, re-designing a dining experience into a conscious endeavor.
Renown chefs take up a challenge of using exclusively plant-based (vegan) ingredients sourced from organic and biodynamic producers found in the Netherlands, Belgium and Germany. And not only that, on the day of the event itself they are faced with interpretations of tableware and cutlery created by the artists.
But leave all prejudices aside and prepare for an explosion of flavors and opulence of ingredients to be found in what is now considered the direct vicinity of the kitchen and a challenging, but incredibly fun way to eat it.

With its home base at the Lloyd Hotel in Amsterdam Experimental Gastronomy has held successful editions in Basel, Berlin, Saratoga and Zurich and collaborated with over 50 artists.
2018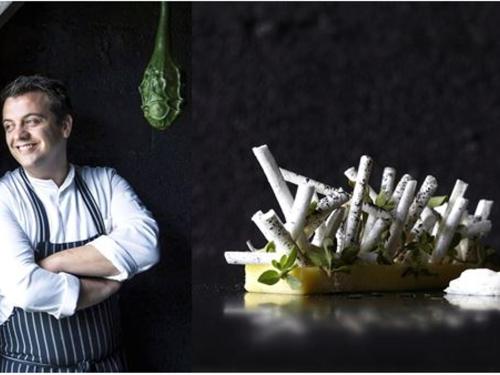 On 5 and 6 June Steinbeisser and Lloyd Hotel will bring renowned French chef Alexandre Gauthier from two Michelin-starred restaurant La Grenouillère to Amsterdam. For this edition of ​Experimental Gastronomy ​ he will serve an entirely plant-based tasting menu in collaboration with ten artists who will create unusual cutlery and tableware especially for this occasion. ​Experimental Gastronomy ​ is a unique immersive experience that offers an exciting and radically different way to enjoy food.

Alexandre Gauthier
Restaurant La Grenouillère in La Madelaine-sous-Montreuil (France), awarded two Michelin stars and No.64 on The World's Best Restaurants, is headed by chef Alexandre Gauthier. As a young man, Alexandre worked at various famous French restaurants, but in 2003 he decided to takeover La Grenouillère from his father. While Gauthier's father had upheld the legacy of French cuisine, Alexandre decided to serve a menu reflecting a modern approach to seasonal ingredients. For Experimental Gastronomy he will serve a plant-based (vegan) menu created entirely with ingredients sourced from organic and biodynamic producers found in the Netherlands, Belgium, France and Germany.

Experimental Gastronomy
Why do we eat the way that we do, and are there any other ways? With this question in mind Steinbeisser explores new ways to eat consciously. Ten artists are seeking answers by creating new kinds of cutlery and dishware that disrupt the conventions. These unique pieces made from materials such as clay, glass, paper pulp and wood, will enrich the dining experience in most unexpected ways.

The artists
Cutlery: Sharon Adams, Nils Hint en Sophie Hanagarth.
Dishware: Aino Nebel, Tomasz Niedziolka, Nuala Clooney, Kaye Winwood, Myung Urso, Willemijn de Greef and Jolan van der Wiel.

Reservation
5 + 6 June 2018 | 19:00
Lloyd Hotel | Oostelijke Handelskade 34 1019 BN Amsterdam
Reservations via info@steinbeisser.org
2017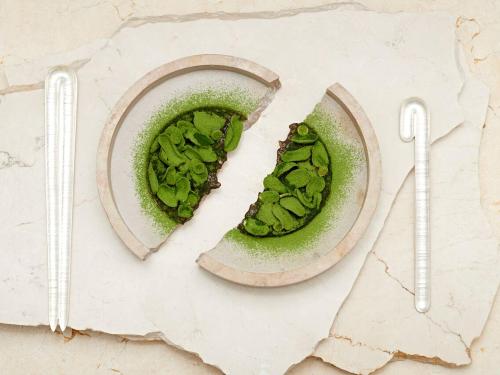 October 6th, 7th and 8th Steinbeisser and Lloyd Hotel & Cultural Embassy celebrate 5 years of Experimental Gastronomy bringing together international artists and chefs from Berlin, Copenhagen and New York. Every evening is a unique immersive experience that marries high end gastronomy with conceptual design practices and offers a radically different way to enjoy food.
On three consecutive evenings of October 6th, 7th and 8th three acclaimed chefs: Kristian Baumann (head chef at Noma's one Michelin star 108), Daniel Burns (head chef and partner at Tørst and Luksus (one Michelin star)), and Andreas Rieger (head chef at one Michelin star einsunternull (the new rising star of the Berlin culinary scene)) will each serve a special tasting menu for this plant-based dining experience. For this occasion, the chefs are taking up a challenge of using exclusively plant-based (vegan) ingredients sourced from organic and biodynamic producers found in the Netherlands, Belgium and Germany.
Tasked with the same challenge as the chefs, Théo Cauchois​ (sommelier, art historian and anthropologist) will explore artisan makers in the Netherlands, Belgium and Germany who craft natural, vegan, biodynamic and organic beers, ciders and wines. Highlighting each terroir and the new artisanship he will, at the same time, consider global issues of sustainability.
Twenty-five artists will muse on the various aspects of food cultures, creating cutlery and tableware that disrupt the conventions and enrich the dining experience in most unexpected ways. Unique pieces made of concrete, glass, rice, salt and silver turn it into a profoundly conscious and even performative act. The cutlery is made by Marie Eklund, Elin Flognman, Sophie Hanagarth, Joo Hyung Park, Laia Ribas Valls and Tala Yuan. The bowls, plates and vessels will be crafted by Dovile Bernadisiute, Catalina Brenes, Gabriela Cohn, Katharina Dettar, Tatjana Giorgadse, Helen Habtay, Nils Hint, Caroline Hultqvist, Inari Kiuru, Machteld Lambeets, Judith Lasry, Christina Liu, Xiao Liu, Hugo Madureira, Mia Maljojoki, Felicia Mülbaier, Julia Obermaier, Toño Perez and Kathleen Reilly.
STEINBEISSER RETROSPECTIVE EXHIBITION
An intriguing array of conceptual, yet usable tableware and cutlery by more than 50 artists and jewelry designers commissioned in the past 5 years of the Experimental Gastronomy events will be exhibited at the Lloyd Hotel & Cultural Embassy in Amsterdam. The collection of tools created for events in Amsterdam, Basel, Berlin, Saratoga and Zurich will, for the first time, be presented outside the dinner happenings.
2016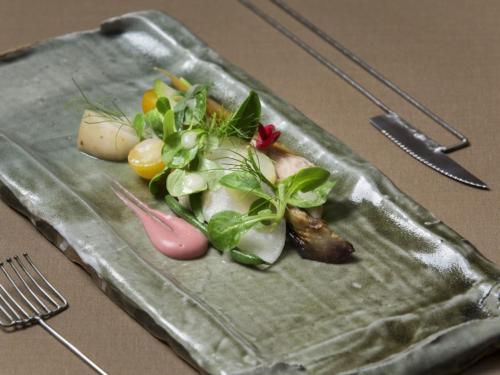 Botanical Gastronomy
On June 26, chef Emile van der Staak cooks a wholly plant-based dinner for Steinbeisser and De Nieuwe Winkel. The ingredients come from Ketelbroek woods. With botanist Wouter van Eck of Ketelbroek, cutlery by Estonian artist Nils Hint and plates by J.C. Herman.

Experimental Gastronomy
Just back from their US-debut in the Bay Area, and from a Basel dinner, Steinbeisser presents a new edition of its 'Experimental Gastronomy'; in which design, gastronomy and nature are put in a adventurous context.

Reknowned Dutch chefs Jef Schuur and Luc Kusters will create a plant-based (vegan) all organic 6 course tasting menu on 7, 8 and 9 October.
Dishes, cutlery and handblown glasses will be crafted by 15 international artists. Nadine M?gling and her sommelier colleague Xavier Giesen will be curating the wines.
2015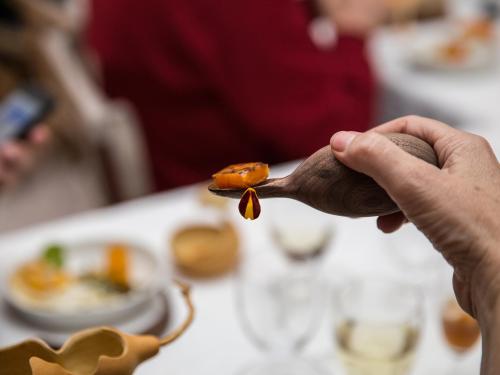 Designer Stian Korntved Ruud created specially for this edition an unique series of wooden spoons. The wood, harvested in native forests, gets shaped by hand with an axe, spoon knives, gouges and other tools. Making one spoon can take up to three hours. The created spoon-shapes are thrillingly unique.
Patricia Domingues, Matthias Dyer, Tatjana Giorgandse, Deborah Rudolph and Tala Yuan are contemporary jewellery artists. As graduates from the University of Trier, their love for stone is eminent. For this edition each artist created a series of dishes matching one course.The dishes were made entirely from natural materials like calabash, clay and stone.
Valentin Loellmann is a collector, dreamer, carpenter, designer and artist. He is best known for his special furniture. His works gives an unique atmosphere enhanced by the special choice of natural materials and shapes. For this edition Valentin Loellmann created a one-of-a-kind wooden dishware.
The surprise of the evening was created by Sarah Hurtigkarl. She studied gold- and silversmithing at the Royal College of Art in London. In her work she searches for the border between cutlery, art and jewellery.
The wine pairings was curated by Mike Dooms. Mike Dooms is the sommelier of De Kromme Watergang and was awarded "Wine-Food Specialist" in 2013 by Gault Millau. The juice pairings were curated by chef Edwin Vinke.

Exclusive edition
On 12 June 2015, the Lloyd Hotel hosted a group of high quality guests with an exclusive Steinbeisser dinner. This group of guests, American art connoisseurs, collectors and museum directors visit Amsterdam at the invitation of Zahid Sardar, the guest curator of Hands Off during the San Francisco Design Week. Lloyd Hotel & Cultural Embassy is internationally known as a place where artists meet, make new connections and spend the night. Also during this edition of Steinbeisser a special evening in room 28 between the artists, guests and chef was created, which for the occasion had been transformed into a dinner shop.

The pure, vegetable ingredients that were used for this vegan dinner, prepared by Femke van den Heuvel, inspired the Japanese artist Nicolas Cheng to design very special table textiles. The vegetables come directly from the garden of the Stadshoeve where Martin Kullik, the initiator of Steinbeisser and a stone's throw from the Lloyd Hotel & Cultural Embassy. Cheng embroidered on three different tablecloths the plants that he saw grow in the city hay and baptized the napkins in silver, so they shone beautifully on the wooden panels of room 28. The plates he designed for the occasion were not only beautiful to eat, but they were put together as the shape of the Stadshoeve, which ultimately resulted in a wonderful culinary experiment. The consumption of these natural dishes was only possible with the real attention of the guest, as the specifications designed by Nils Hint invited the inventiveness of this special company.
2013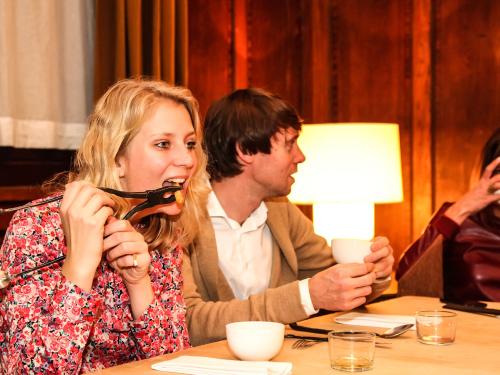 Guests of the spring edition in May of the gastronomic five-star meal on a plant basis, ate with the feather-light Open Air cutlery by designer Maarten Baptist and the challenging cutlery of Maki Okamoto-san. He graduated with these specifications in 2002 at the Design Academy Eindhoven. It is one of seven cutlery pieces he designed before graduating, all inspired by the personalities of one of his friends.
In August, Bini Sherman was the chef/curator of the menu and the sensual cutlery of the Korean designer Jin Hyun Jeon was used.
2012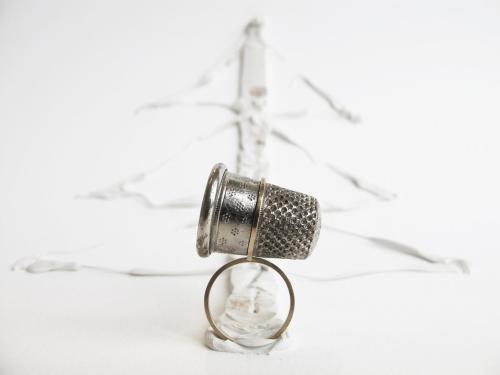 Experimental Design
Inspired by a statement by Louise Bourgeois,?I Do. I Undo. I Redo?, Steinbeisser made a new couture of second-hand men's fashion from Fundus shops of the German Red Cross. The clothes could be seen around Easter.
During a weekend in June 2012, Steinbeisser showed work by Gitte Nygaard, Julia Manheim, Karin Roy Andersson and Nicolas Cheng entitled' A Matter of Act - Sustainability in Contemporary Jewellery'.

Experimental Gastronomy
In July 2012 Steinbeisser presented her first food festival, Experimental Gastronomy. Chef was Alexander Gershberg, Maki Okamoto-san's crockery, and Debbie Wijskamp's scales and displays of black paper pulp were all made by Debbie Wijskamp.
From September 7th - 9th a solo exhibition of the conceptual jewellery maker Monika Brugger: Au Bout du Doigts / Mit Fingerspitzengefuehl.
"Her art involves an interrogation between the agreed word and the thing made". Pierre-Damien Huyghe.
2011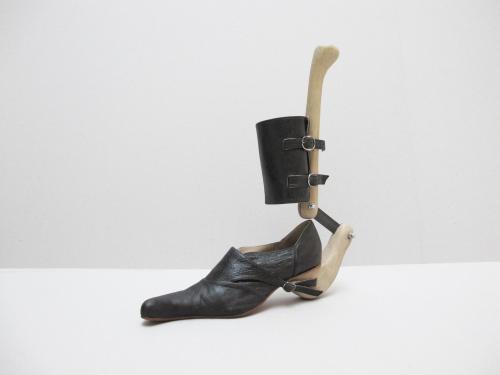 Experimental Design
The start of the collaboration between the Lloyd Hotel & Cultural Embassy and Steinbeisser was the three-day exhibition' Jewelry fever', followed in October 2011 by an installation by Marijke Schurink,' Sierbarium nr. 1'. The year ended with a retrospective exhibition of ten years of shoe design by Japanese designer Kei Kagami. The Financial Times wrote about it:' Shoes on Show'. What started in as an exhibition of experimental jewelry grew to become a radical exploration of our eating culture.