Lloyd History
The architecture and large chunks of the interior of Lloyd Hotel bear witness to the fact that this is a building soaked in history. Climbing one of the staircases, this history unfolds in film, pictures, and letters.
Emigrant Hotel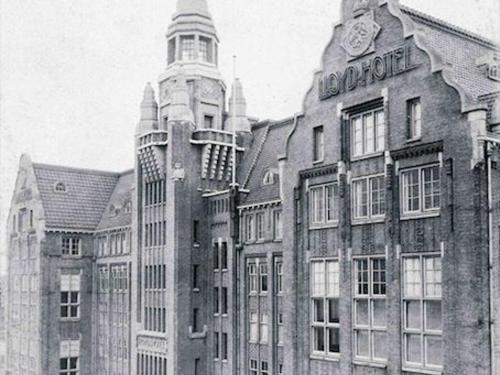 Royal Dutch Lloyd built Lloyd Hotel along the IJ-quay, from which their ships departed. The hotel – which could bed 900 people - had rave reviews at the opening in 1920. The eclectic architecture of Evert Breman was considered impressive.
Emigrants arrived at the neighbouring Quarantine building, where they had a medical check up and a shower. A film of this procedure was made by the Amsterdam Health Service in the '20s. They stayed in Lloyd Hotel for a few days, before departure. Royal Dutch Lloyd went bankrupt in 1935.
After the Royal Dutch Lloyd shipping company stopped using the building, Lloyd Hotel served as refugee centre, detention centre, juvenile detention centre and artist studios.
In 1996, the municipality organized a competition for new hotel plans. The Eastern Docklands were to become a prestigious area for living and working, with work of the best Dutch architects. Lloyd Hotel – by now a monument - reopened on 11 November 2004 as a 1-to-5 star hotel with a Cultural Embassy.
Lloyd History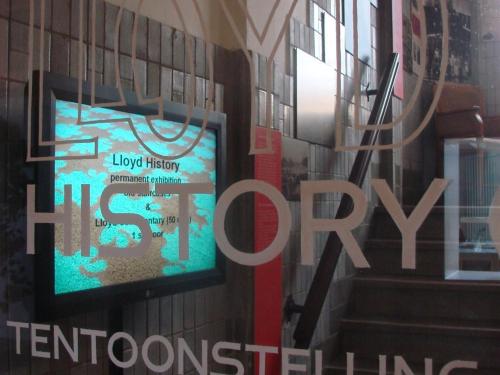 Exhibition, film, book, projects
In the original staircases, a permanent exhibition about Lloyd Hotel history can be visited. It is open for all and has no admission.
The documentary film 'Lloyd Hotel, portrait of a building', by Micaela van Rijckevorsel and Jeroen Visser, was broadcast on NPS national television in January 2005. The filmmakers followed the transformation of the building into a 1-to 5-star hotel and interspersed scenes of this process with archive material.
In 2005, the book 'Lloyd Hotel' by journalist and researcher Annette Lubbers came out. She was the first to write an overall history of Lloyd Hotel. This unique edition in Dutch is now a rare find on the internet.
Numerous projects of the Cultural Embassy were based on this history of Lloyd Hotel.
Among special projects of Lloyd Hotel are educational project Zotia Emigreert, the art installation Lloyd Life by Chikako Watanabe, and the presentation series Ll-Tribune.
In 2017 Jeroen and Jan Jacob Wisse Smit donated a large number of objects from the Royal Dutch Lloyd era at Lloyd Hotel. The pictures, documentation, linen, service, cutlery and hutkoffers give a lively image of daily life on board of one of the Lloyd ships.
The donation comes from the inheritance of Carel Coenraad Vermeer, their grandfather, who was assistent to the board of Wm. H. Muller shipping company, Rotterdam, as it took on the Royal Dutch Lloyd in liquidation in 1930. In 1934 Vermeer went to Buenos Aires as representative of Royal Dutch Lloyd, and upon his return to the Netherlands in 1937, he was made director of Lloyd in Amsterdam. He remained in this position until his retirement in 1966.
We are always interested in your stories. If you have any information, or want to know more, please contact us.